4 Novembre 2021
---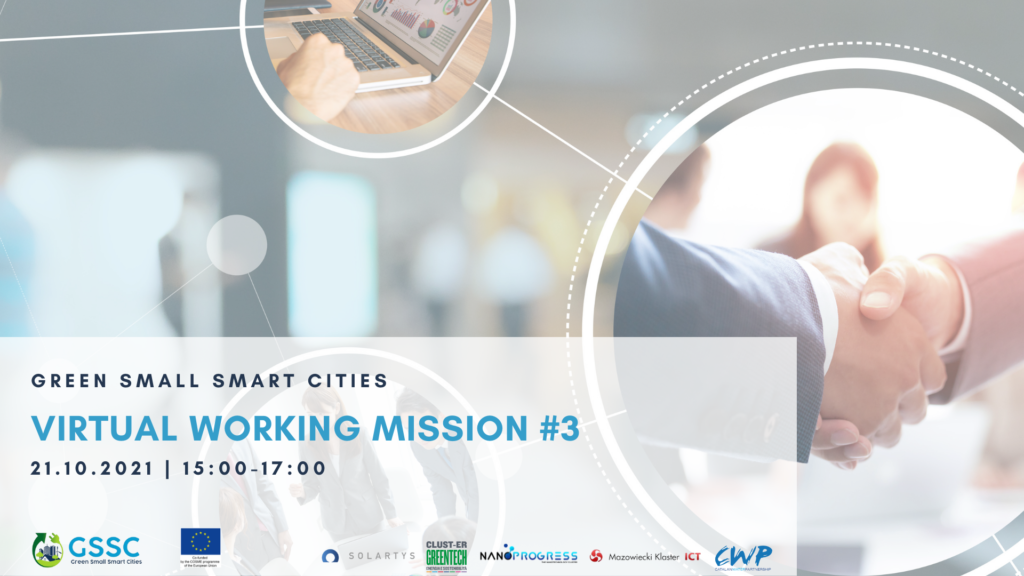 On 21 th October 2021 was held the third of five C2C virtual working missions of the GREEN SMALL SMART CITIES project, five appointments around the concept of Smart Cities and its most challenging and opportunities pillars in 3 different countries: Chile, Cape Verde and Vietnam.
The event was organised by Emilia-Romagna Greentech Clust-ER, one of the partners of GSSC project, which is coordinated by Solartys and includes the presence of Mazovia Cluster ICT, Nanoprogress and Catalan Water Partnership.

During the event the various speakers presented the hosting Clust-ER and shared various interesting information and points of view about some of the most important local projects and good practices in Emilia-Romagna and also internationalization market opportunities, in particular to Chile and South America.

Green Small Smart Cities (GSSC) is a project financed by the European Union, in the framework of the programme for the Competitiveness of Enterprises and for Small and Medium-sized Enterprises (COSME), call Cluster Go International, whose objective is to intensify the collaboration between European strategic clusters in order to lead the international cooperation of groups of companies in fields of strategic interest beyond Europe.

AGENDA AND SLIDES (DOWNLOADABLE)
1 WELCOME AND PRESENTATION OF THE GREENTECH ECOSYSTEM | KATIA FERRARI – GREENTECH CLUST-ER
2 EMILIA-ROMAGNA GO INTERNATIONAL: THE INTERNATIONALIZATION STRATEGY OF THE EMILIA-ROMAGNA REGION | GIANLUCA BALDONI – ATTRACTIVENESS AND INTERNATIONALIZATION SERVICE OF THE EMILIA-ROMAGNA REGION
3 GSSC PROJECT: HOW THE THREE COUNTRIES CHILE, CAPE VERDE AND VIETNAM WERE SELECTED |MERCÈ MARTIN, CWP CATALAN WATER PARTNERSHIP
4 THE CHILE ENERGY SECTOR: MARKET OPPORTUNITIES AND HYDROGEN STRATEGY SECTOR | CHRISTOFF JANSE VAN VUUREN, INVESTCHILE
5 THE LOW CARBON BUSINESS ACTION IN LATIN AMERICA: AN OPPORTUNITY FOR THE EUROPEAN ENTERPRISES | ALFREDO CAPRILE, LCBA-LOW CARBON BUSINESS ACTION
GOOD PRACTICE FROM THE GREENTECH SMES PARTICIPATING IN THE GSSC PROJECT

6 – IDRO MECCANICA SRL, GIORDANO GOZZI
7 – LAB SERVICE ANALYTICA SRL, IVANO BATTAGLIA
---
WATCH THE FULL VIDEO OF THE MEETING